Commercial Bitumen Roofing in Lubbock
Roofing in Lubbock: ABF Commercial Bitumen Roofing
ABF Roofing offers commercial bitumen roofing in Lubbock. Bitumens are roofs designed for low slope or flat roof structures. They're made of asphalt and polymerized rubber or plastic, then reinforced with fiberglass to create a rugged-yet-flexible waterproof membrane. Originating in Europe in the mid 1960's, they have been used successfully in the United States and Canada since 1975. They are designed to withstand harsh exposure to extreme environmental elements and have five layers of protection which makes them one of the most trusted roofs in the industry today. We're proud to offer bitumen roofing in Lubbock!
The 5 layers of a Bitumen
Insulation – Used to provide "R" value, or thermal resistance, for temperature stability of the roof.
Modified Base Sheets or Plies
Modified Bitumen Membranes – Sheet membrane composed of co-polymer reinforced with polyester or fiberglass.
Adhesive – Waterproofing material with a bonding agent applied hot or cold.
Surfacing – Provides UV protection and resistance from harsh weather.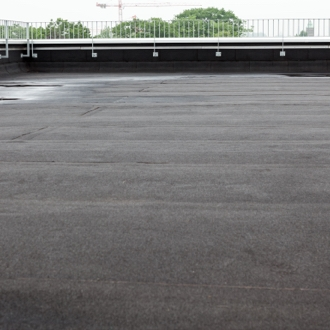 Advantages of Bitumen Roofing in Lubbock
They have a proven track record of performance

Superior waterproofing characteristics

Broad range of application methods

Wide choice of top-surfacing, including "Cool Roofing" options

High tensile-strength

Available as part of a fire, wind, and/or hail rated roofing system

Competitive life-cycle cost

Long-term warranties are available
What Kind of Bitumen Roofing Do You Need?
APP Membranes
Otherwise known as "plastic asphalt," atactic polypropylene (APP) membranes consist of asphalt blended with plasticized polymers that become elastic under hot temperatures. APP is resistant to UV rays and is a good choice for structures seeking a "cool roof" effect. This is especially good for bitumen roofing in lubbock, considering how high temperatures can get during the summer.
SBS Membranes
Styrene-butadiene-styrene is more of a rubberized membrane that combines asphalt with polymerized rubber for elasticity and flexibility. SBS works well on buildings whose roofs expand and contract with extreme temperature changes, along with roofs subject to high winds.

Got Questions?
Don't Know what you're looking for? That's why we're here! Visit our contact page to ask us any questions you have, or give us a call at 8068633626. We know that looking for a new roof can be a stressful process, so we want to make things easy for you.
Reach
Out
Contact the office and we will get you started on your experience with ABF Roofing & Foam. Our experienced professionals will get you started with an estimate and excellent service!